Stockton Kings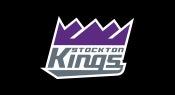 About the Stockton Kings:
The Stockton Kings are a member of the NBA G League, the official minor league of the NBA. The Stockton Kings are affiliated with the Sacramento Kings. For ticket information, call the Stockton Kings front office at (209) 360-229 or visit StocktonKings.com. Follow the Stockton Kings on Twitter and "like" the Stockton Kings on Facebook.
The NBA G League is the NBA's official minor league, preparing players, coaches, officials, trainers, and front-office staff for the NBA while acting as the league's research and development laboratory. Featuring 27 teams — all with one-to-one affiliations with NBA franchises, the league offers elite professional basketball at an affordable price in a fun, family-friendly atmosphere. In fostering the league's connection to the community, its teams, players and staff promote health and wellness, support local needs and interests, and assist in educational development through NBA G League Cares programs.