Stockton Ports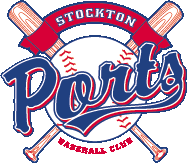 The Stockton Ports entered their 62nd season in the California League in 2011, with a 4,474 – 4,018 overall record, 11 league titles, and their own unique lore and traditions tying them into Minor League Baseball and Californian history.
Baseball lore credits a baseball team based in Stockton, CA with being the inspiration for Ernest Lawrence Thayer's famous "Casey at the Bat" poem. Thayer wrote the fictional poem in 1888, as legend goes, after seeing the Stockton club perform. At that time, Stockton played at Banner Island Park near a riverfront area called Mudville.
In addition to having the most titles by any active League team (11), the Ports are tied with the Fresno Cardinals/Giants for the most franchise titles in League history. Stockton was also the fastest team in League history to reach the 4,000 win plateau, a feat they accomplished in 2004.
After the 1999 season, the team renamed themselves the Mudville Nine, as a salute to Thayer's poem and their own roots. Following the 2001 season, the Nine reverted back to the name Ports and continued to find plenty of success in the California League.
In 2002, the Ports were purchased by 7th Inning Stretch, LLC, a baseball ownership group founded by Tom Volpe.
In 2005, the Ports moved from Billy Hebert Field into their spacious new home at Stockton Ballpark, which is located right along the muddy riverfront.
The Ports have won championships in 1946, 1947, 1963, 1965, 1969, 1980, 1986, 1990, 1992, 2002, and 2008. The Ports look to continue their winning ways in future seasons.
Ports affiliates over the years… 1941 Los Angeles (PCL); 1946 Independent; 1947-48 Oakland (PCL); 1949 Chicago AL; 1950-51 Independent; 1952 St. Louis AL; 1953-54 Chicago NL; 1955 Oakland (PCL); 1956-57 Baltimore; 1958 St. Louis; 1959-1971 Baltimore; 1972 California; 1978 Seattle; 1979-2000 Milwaukee; 2001-02 Cincinnati; 2003-2004 Texas; 2005-present Oakland.
Upcoming Games