Stockton Heat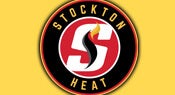 In the fall of 2015 the Calgary Flames announced that their AHL affialte, known as the Stockton Heat would call the Stockton Arena home.
"The Flames were excited to open the name the team contest to the fans so that they could have their voices heard," said team president Dave Piecuch. "There were close to 10,000 entries in the contest. Of the seven most popular entries, five of them were Flames-related, and those became the five finalists. The name Heat, which was one of the most-entered names, was chosen out of the five finalists because the Central Valley is certainly known for its heat and it kept the name weather related, something that California is known for across the world."
Flames General Manager Brad Treliving spoke to the importance of having an AHL team located on the West Coast, and his own excitement about having a franchise in Stockton.
"To use a baseball analogy, this will be our top 'Triple-A' affiliate," Treliving said. "This move is significant to our development of a Stanley Cup champion in Calgary for multiple reasons. First off, Stockton Arena is a world-class facility that is the envy of not just ECHL teams, but AHL teams as well. Having our players play at a top-notch facility was paramount. Also, the fans pack the house here every night; we look forward to that same support for the new team."
Upcoming Games