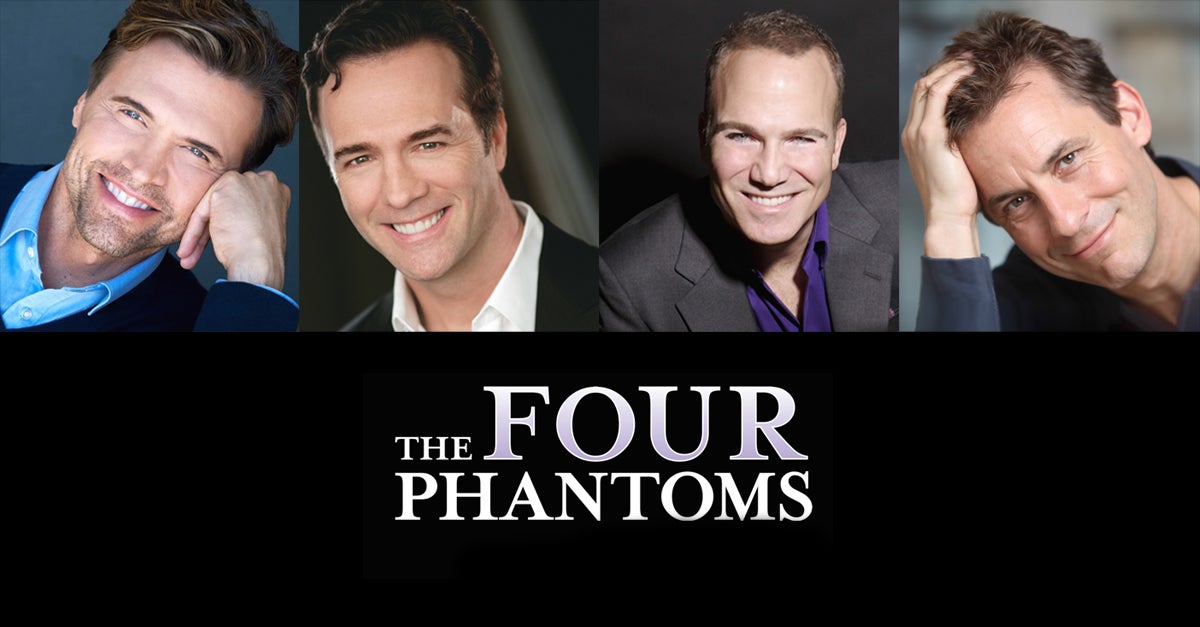 The Four Phantoms To Perform At Holiday Movie Skating Spectacular
Sep 28, 2016
View All News
THE FOUR PHANTOMS TO JOIN RENOWNED POPERA STAR ROMINA ARENA AS THEY PERFORM ON NOVEMBER 9 IN "HOLIDAY MOVIE SKATING SPECTACULAR" AT CALIFORNIA'S STOCKTON ARENA.
Stockton, CA (September 23, 2016) - The internationally renowned musical phenomenon, The Four Phantoms, join the cast of the Holiday Movie Skating Spectacular: Where Did They Film That? The Holiday Music Journey performing at Stockton Arena on Wednesday, November 9 at 7:30 p.m. The Four Phantoms features artists from Andrew Lloyd Webber's Tony Award-winning musical The Phantom of the Opera who performed globally in London, New York, San Francisco, Toronto, Germany and Las Vegas. The Four Phantoms are comprised of an extraordinary quartet of performers including Brent Barrett, Franc D'Ambrosio, Marcus Lovett and Ciarán Sheehan who will perform holiday numbers with the "Queen of Popera," Romina Arena, who is the show's starring guest artist.
The cast features one of the greatest figure skaters in U.S. history, Olympic Champion Brian Boitano, along with World Champion Kimmie Meissner.
Hosted by Olympic Champion Kristi Yamaguchi and three-time U.S. Champion Michael Weiss, the star-studded figure skating cast is scheduled to include:
Olympic Champion, two-time World Champion and four-time U.S. Champion Brian Boitano
World and U.S. Champion Kimmie Meissner
Four-time U.S. Medalist and World Bronze Medalist Caryn Kadavy
U.S. Champions Caydee Denney & John Coughlin
Eight-time British Champion Steven Cousins
Two-time U.S. Bronze Medalists Kim Navarro & Brent Bommentre
U.S. National competitor Carly Donowick
U.S. National competitor Jonathon Hunt
U.S. National competitor Erin Reed
ProSkaters VSO Champion Ashley Clark
Tickets for Holiday Movie Skating Spectacular are available at www.ticketmaster.com, all Ticketmaster outlets, the Stockton Arena box office and by phone at 800-745-3000. For more information on upcoming events, visit www.stocktonlive.com/events/venue/1.
The show is part of the Colgate Skating Series and will be taped to telecast on ABC during the holiday season.
ABOUT DISSON SKATING
Disson Skating annually produces nationally televised figure skating spectaculars, all featuring celebrity guest artists on ABC. Disson Skating's shows continue to capture large television audiences with every event and Disson Skating has earned the reputation as the leading producers of televised ice skating spectaculars in the United States.
ABOUT THE FOUR PHANTOMS:
Brent Barrett has entertained millions of fans around the world from the stages of Broadway, the West End, concert halls, recording studios, and television. He currently is reprising his role as Billy Flynn in the Tony Award winning hit, CHICAGO-The Musical, for which he received a LA Drama Critics Award. Prior to his Broadway return, he relocated to Las Vegas where he was asked to open the new production of Andrew Lloyd Webber's Phantom-The Las Vegas Spectacular. Brent starred in the title role for two years to sold-out houses at the Venetian Hotel. Brent received an Olivier Award nomination for his starring role in the London premiere of the Tony Award winning Broadway revival of Kiss Me, Kate. His acclaimed performance was recorded for broadcast on PBS and is available on DVD. He also starred in the City Center Encores! production of The Pajama Game, and as King Arthur in the Paper Mill Playhouse production of Camelot. Other Broadway roles include Frank Butler in the Broadway revival of Irving Berlin's Annie Get Your Gun opposite Reba McEntire, Charles Castleton in the Alan Jay Lerner musical Dance a Little Closer, and Baron Felix Von Gaigern in Grand Hotel.
Franc D'Ambrosio is best known for his impressive portrayal of the Phantom in Andrew Lloyd Webber's Tony Award winning musical, The Phantom of the Opera. Franc has been recognized as the world's longest-running Phantom, and is affectionately known as the "Iron Man of the Mask." Franc's resume also includes an Academy Award nominated film where he played the opera-singing son of Al Pacino and Diane Keaton in the seven-time Academy Award nominated film, Godfather III. He also sang the Academy Award winning theme song of the movie, Speak Softly Love, for both the film and the soundtrack.
Marcus Lovett, a graduate of Carnegie Mellon University, began his career in the original Broadway production of Les Miserables. He simultaneously appeared on ABC's One Life to Live. His other Broadway credits include the lead roles in Aspects of Love, The Phantom of the Opera, and King David. In 2012, he reprised his role as the Phantom, this time at Her Majesty's Theatre in the West End. Marcus is the voice of Good Morning America and This Week with George Stephanopoulos, and has a discography which includes Marcus Lovett, The Give Moment, and his 2014 release of Marcus Lovett, Where is Love.
Ciarán Sheehan, a native of Dublin, Ireland, has performed the role of the Phantom in The Phantom of the Opera to critical acclaim both on Broadway and in Toronto, Canada. Other Broadway roles include Raoul in The Phantom of the Opera and Babet and Marius in Les Miserables. Broadway concerts include Sir Dinadan in Camelot with Jeremy Irons, and Woody in Finian's Rainbow opposite Melissa Errico. As a member of The Irish Rep, Ciarán has appeared in many of their productions including Hal Prince's Grandchild of Kings, and Frank McCourt's The Irish...And How They Got That Way. Recent work includes Adam in Fifty Words, Tone in The Final Days of Wolfe Tone, Billy Bigelow in Carousel, and he is set to play Bartell d'Arcy in Joyce's The Dead with Kate Burton in New York. He is currently producing and starring in an Off-Broadway production of O'Neill's Anna Christie.
Ciarán has had the great honor to sing the memorial mass for John and Carolyn Kennedy, and the funeral mass for Beau Biden, at the request of Vice President Joe Biden, both televised worldwide. Ciarán has performed in three PBS Specials: The Irish...And How They Got That Way, From Galway to Broadway and Ciarán an Evening With Friends.
Contacts:
Pete Bockelman
202-285-1866
Elina Adut (Publicity)
The Lippin Group
323-965-1990
Related Upcoming Event
Print This Page