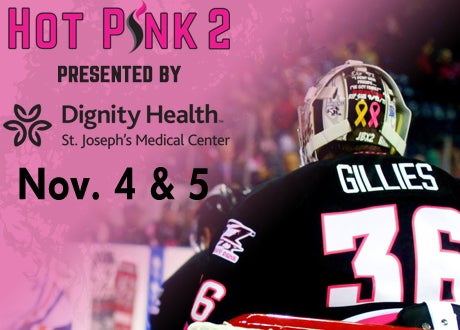 Hot Pink 2 Returns to the Stockton Arena
May 25, 2016
presented by: Dignity Health St. Joseph's Medical Center
View All News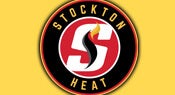 The Stockton Heat, proudly owned by the NHL's Calgary Flames, announce that the team's signature breast cancer event, Hot Pink 2 presented by Dignity Health St. Joseph's Medical Center, will take place on Friday, November 4 and Saturday, November 5.
For the 11th time in Stockton hockey history, fans will experience a hockey game on pink ice, watch the Heat sport pink jerseys, and help raise money for St. Joseph's Foundation – Breast Health Services through auctions, raffles, ticket proceeds and more.
During Hot Pink 1 on November 6 and 7, 2015, the Heat and the Heat faithful raised $13,815, bringing the 10-year total of one of the most popular events to a total donation of $260,900.
The Heat have now revealed three guaranteed dates this season with the Heat's home opener taking place on October 15.
For a limited time, get two tickets to the November 4 or November 5 game plus four undated vouchers good for any regular season home game at Stockton Arena and either a Heat pink cap or ladies shirt for as low as $67! You can also choose to upgrade those same packages with six undated vouchers
With a number of options available to ensure you don't miss the Heat's second ever home opening game questions are sure to arise. Call 209.373.1500 and speak with our helpful account executives today or visit StocktonHeat.com for more information.
Related Upcoming Event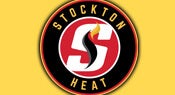 Print This Page