Heat Open 2016-17 Season at Stockton Arena on Saturday, October 15
Apr 25, 2016
View All News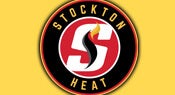 The Stockton Heat, proudly owned by the NHL's Calgary Flames, announce that Saturday, October 15 will be the first home game at Stockton Arena for the team's 2016-17 season.
After a successful inaugural season, the Heat will be looking to build upon their initial success of winning 65% of their home games starting on October 15.
Don't miss a minute of the action and purchase your full season tickets now for as low as $380 and receive special perks like Never-A-Wasted Ticket dates, Skate with the Team Event, Pre-Game Chalk Talks, and a number of other exclusive events and perks.
Not sure you can make the commitment? Purchase a Heat mini-plan package before Friday, April 29 and receive a $20 merchandise certificate to use at the Stockton Fan Attic. Mini-plans range from six to 13 games over the course of the season, fit to your schedule or for your favorite promotions and start at just $65.
The $20 certificate you'll receive can get you some great Heat merchandise, and if you act now, selected tees and outerwear items are 40% off!
In addition, fans can begin to book your group of 10 or more people now to guarantee prime seating and to lock your group pricing in for as little as $9 per ticket.
With a number of options available to ensure you don't miss the Heat's second ever home opening game questions are sure to arise. Call 209.373.1500 and speak with our helpful account executives today or visit StocktonHeat.com for more information.
Print This Page